TURKEY'S
EXPORT BY INDUSTRY - 2017
Automotive

28.5Billion USD

Export Value

%19.5Share in

Total Export

Textile

17.0Billion USD

Export Value

%10.9Share in

Total Export

Chemicals

16.0Billion USD

Export Value

%10.2Share in

Total Export

Steel

11.5Billion USD

Export Value

%7.3Share in

Total Export

Elektronics

10.5Billion USD

Export Value

%6.7Share in

Total Export
TURKISH STEEL INDUSTRY
Today Turkey has 24 electric arc furnace mill plants (EAF), 5 induction furnace plants and its 3 BOF plants.
In 2017, global output increased 1.691 billion tons, up by 5.3% on 2016. She had a 13.1% increase with 37.524 million tons in year 2017.
In 1996, The European Coal and Steel Community (ECSC) agreement signed between the EU and Turkey. With signing the agreement, customs duties on bilateral steel trade were abolished. The agreement allows Turkey to trade its iron and steel products without customs duty with all EU member states. Additionally, the Government does not subsidize Turkish domestic steel industry due to the European Coal and Steel Community (ECSC) agreement.
All steel companies in the country are privately held, and Turkish steelmakers continue to pursue technological developments to enhance the long-term viability of the industry in the global marketplace. The steel industry has become one of the most developed sectors in Turkey and today counts as the fourth largest contributor to the Turkish economy.
TURKEY'S
STEEL MAP - 2017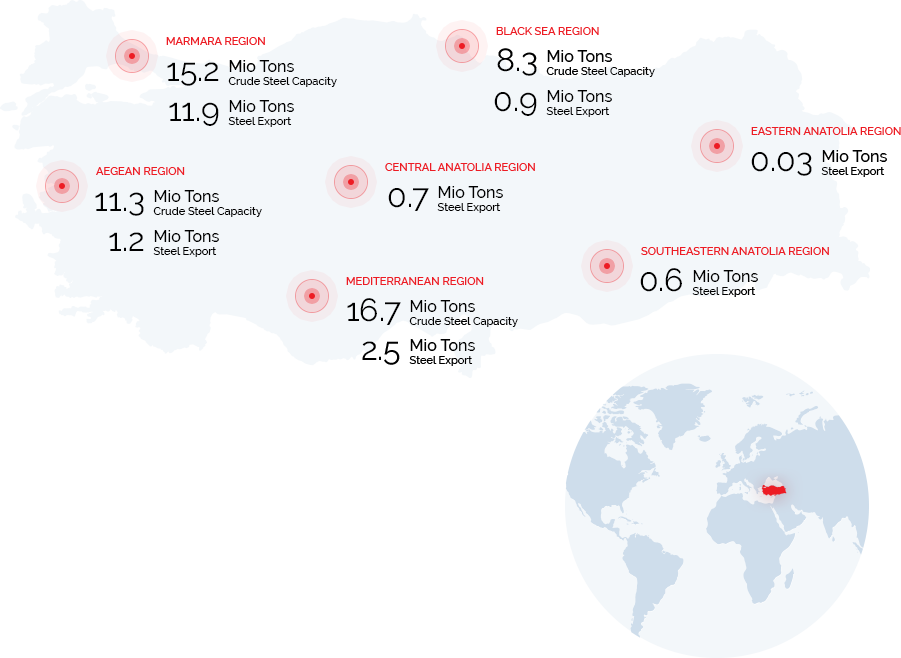 A GROWING INDUSTRY
After 1980, with the implementation of import substitution system, Turkey has increased her steel export to primarily neighboring countries such as Iran, Iraq and North African countries. In the next 20 years, Turkey realized a major production and export boom.
While Turkey was the world's 10th biggest steel producer in 2001, she has become the 8th biggest producer globally and 2nd largest steel producer in Europe in 2017. In fact, she was the third fastest growing steel producer in the world between the 2001 and 2011, after China and India. Steel production in Turkey has increased significantly since 2001, growing from 15 million tons (mt) in 2001 to 37.5 million tons in 2017. Growth of the industry has been driven by strong domestic consumption. Turkey's crude steel consumption per capita has increased to 464 kg in 2017 and is expected to continue to growing in the medium - long terms. In addition to the strong domestic demand and dynamic steel using industries, Turkey's well placed position also supports exports and production.
TURKEY'S
STEEL INDUSTRY - OVERVIEW
| | 1000 Mio Tons | 2016 | 2017 | CNG |
| --- | --- | --- | --- | --- |
| | Production | 33.163 | 37.524 | 13.1% |
| | Consumption | 34.091 | 36.055 | 5.8% |
| | Export | 16.509 | 17.761 | 7.6% |
| | Import | 17.251 | 15.303 | -11.3% |
TURKISH STEEL IN THE WORLD
Turkish steel manufacturers export to all over the world, due to competitive prices and effective marketing strategies. According to 2017 figures, Turkey's main export region is the European Union with 5.6 million tons by %54.7 increase, constituting 32% of Turkey's total steel exports.
Middle East is another main export destination of Turkish steel exports with 4.1 million tons and Turkey's export to the region decrease 23.8% in 2017. Turkey steel exports also decrease to North America and North Africa region by 10.2% and 34.2% respectively. On the other hand, in 2017, Turkish steel exports to Far East region and Latin America region sharply increase by 507%, 35.3%, respectively.
SHAPE THE WORLD WITH
TURKISH STEEL